CBD Oil for Sleep in South Africa
There are so many CBD oil products in South Africa that you won't struggle to find them. In the past few years alone, many health shops, online stores, and even pharmacies are starting to offer CBD products.
There are different reasons why you might want to buy CBD oil. People use them for many conditions, including CBD for anxiety, pain, and even chronic illnesses like epilepsy. Some people have even started using CBD to help them sleep, but does it work?
CBD for Sleep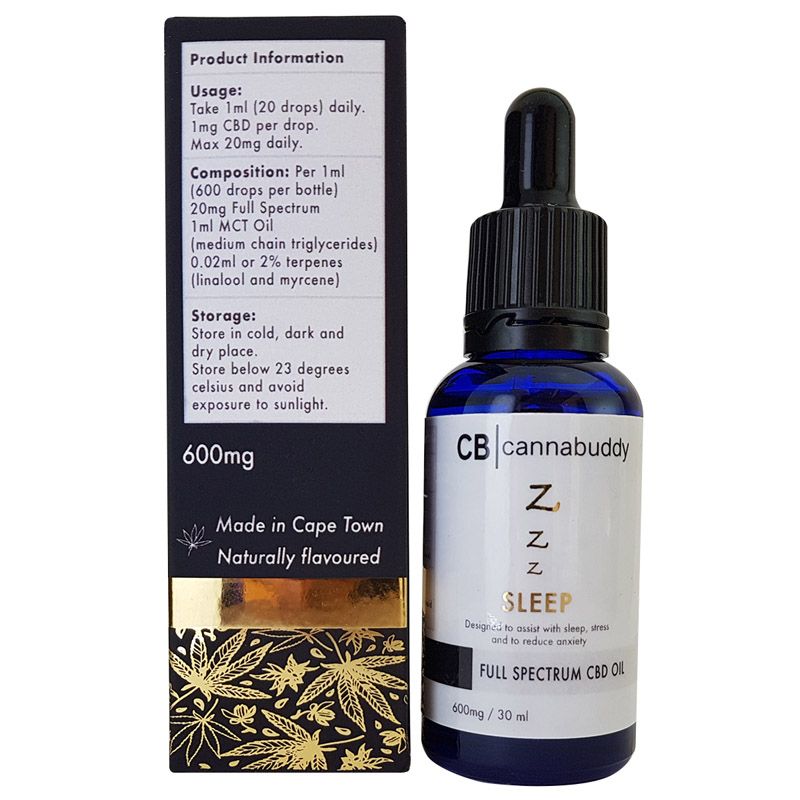 Cannabidiol, aka CBD, is one of the many cannabinoids found in cannabis plants. There are over 100 cannabinoids that have been identified, yet most people only know about THC and CBD.
THC is the most famous (and infamous) cannabinoid – the one responsible for getting you high. Although most people think it stops there, there are many medicinal benefits for THC as well. However, not everyone wants to deal with the psychoactive effects, and that's where CBD comes in.
CBD is like THC's friendly brother. Instead of getting you high, CBD offers you a plethora of medicinal benefits. Anxiety, stress, insomnia, epilepsy, and pain are only a few of the many conditions that CBD in South Africa can help treat.
Although we are still a few years away from completely understanding CBD products, there is a lot of anecdotal evidence that suggests it can help with sleep – but how?
You can read more about the different cannabinoids found in Cannabis and their effects – here.
Is CBD Soporific?
Soporific drugs are those that can help induce sleep. The most common soporific medicines available are sleeping pills. There is some anecdotal evidence to suggest that CBD oil could be soporific, but the research is still inconclusive. You can read about the study here.
Don't let this discourage you. CBD oil from South Africa can still help you sleep, even though it might not be a direct benefit. Many people who have insomnia have issues with anxiety, stress, or chronic pain.
These three conditions can all be treated with CBD cannabis oil in South Africa. So, instead of trying to force your body to sleep with soporifics, treating the underlying conditions with CBD can be a much healthier and long-term solution.
CBD Oil for Sale in South Africa
There are plenty of excellent quality CBD oil products available. These products come in a variety of different forms and strengths. Before deciding on a product, it is important to know how to choose the correct dosage.
If you are looking for something to help you sleep, you can look through the following CBD cannabis products in South Africa.
Cannabuddy has developed a full-spectrum 600mg CBD oil to help promote a relaxed state for both our body and mind. As this product is full-spectrum the original cannabinoids from the plant during the extraction process are kept intact these cannabinoids work together with CBD enhancing its effects on our body CB1 and CB2 receptors.
Cannabuddy has kept the natural terpenes found in the cannabis plant, these are in the form of Myrcene and Linalool both have historically been used in traditional medicines for their therapeutic and sedative properties. For more information on Cannabuddys's sleep oil follow the link below for correct dosing and further information on the product.
Check Price
Stress is one of the leading causes of insomnia. If you are struggling with insomnia and thinking 'Where can I buy CBD oil in South Africa,' you should consider Elixinol. This is their second product on our list, and there are many more available from their online store.
This particular product contains 30 capsules with a total of 150mg of CBD (0.5mg CBD per pill). This is a very mild CBD dose, making it an excellent product for newcomers to the CBD scene. These capsules have added biotin and pantothenic acid to aid in stress relief.
When it comes to medicine, it's vital to get the best quality products. AfricanPure is one of the best companies when it comes to CBD in South Africa. This product is a broad-spectrum CBD oil that contains 600mg per 30ml container.
There is no THC present (<0.001%) and over 20% CBD. To help with sleep, you can take 1ml (10 drops) under your tongue about half-an-hour before going to bed. This equates to about 2mg of CBD. If you find this is not helping you, you can progressively increase the dosage until you are satisfied.
Check Price
With a name like 'dreams', it is quite easy to guess what this product is used for. Elixinol makes a wide range of high-quality CBD oil products. These CBD oil capsules are perfect for those who have insomnia.
You can buy the CBD oil in Cape Town or nationwide, and if you spend more than R500, you will get the shipping for free.
There are 30 capsules per bottle and each capsule contains 5mg of CBD, thiamine, ashwagandha, and chamomile. All of these ingredients together make the perfect combination to help you sleep. The CBD oil is full-spectrum, 100% natural, and has added terpenes and flavonoids to create a healthy and great tasting product.
Check Price
Faithful to Nature has an outstanding CBD oil for sale that can help with sleep. This product contains 600mg of CBD with 30 capsules (plant-based caps). This means there is 20mg of CBD per capsule.
It is quite a strong dose and should only be recommended to people experienced with CBD. However, if you find that you have bad insomnia and other, milder CBD products in South Africa are not doing the trick, you should try it.
In addition to the CBD, each capsule also contains Ashwagandha and Sceletium. Both are herbal remedies that have calming effects – the perfect combination to help you sleep.
Check Price
Many people are happy to use CBD oil or CBD oil capsules, but some people prefer vaping. Vaping is a great way to get the CBD you require without needing to swallow a product. All you need is two 3-second puffers per dose.
Unwind is a lovely CBD product for those who need help sleeping. It is an organic CBD blend derived from MCT (medium-chain triglycerides) oil. It is infused with natural flavours to create a great tasting vape experience.
There is 250 mg of CBD per cart. It is recommended that you do not exceed 20mg per day (24 puffs). Smoking this product before bed is a great way to relax your mind and help with sleep. The cannabis oil price is R295 per cart.
Check Price
The Best Way to Fall Asleep
If you are struggling to fall asleep at night, you should know that you are not alone. Many people spend their nights tossing and turning and it can seriously impact their mental state during the next day.
Instead of just putting up with it, you can buy CBD oil in South Africa to deal with the problem. There are plenty of great quality products available that come in various strengths. But it's always best to start with a lower dosage and work your way up if you feel you need more.
If you are still worried about choosing the right CBD cannabis oil for sale, you can consult a medical practitioner. Now it's time for you to go and enjoy a good night's rest!